In this course, we will learn German professions, dear students. What are the differences between German professions and Turkish professions, how do we say our profession in German, phrases of German vocation, how do we ask the person in front of us about their profession, the sentence to ask a profession in German and such issues.
First of all, let us say that different uses are seen in German professions according to the gender of the individual doing the profession. So if a teacher is male, another word is said in German, and another word is said if female. In addition, der artikeli is used in front of men and die articel is used in front of women.
After reviewing the table below By profession in germanYou will have more detailed information about r.
What's on the rest of the page?
This topic of German professions is a very comprehensive topic and is supported by many examples. It has been carefully prepared by the almancax team. German professions are usually taught in 9th grade, sometimes also to 10th grade students. On this page, we will first learn about the job names in German. Later German job-asking phrases we will learn. Later German vocabulary phrases we will learn. Then we will see German professions en masse with pictures. Look carefully at the wonderful images we have prepared for you.
Professions in German
German professions If we talk about it briefly and German professions s Turkish professions If we talk about some of the differences between, we can briefly summarize in a few items.
There is no distinction between a male or a female in Turkish when saying someone's job. For example, we call a male teacher a teacher, and a female teacher a teacher.. Likewise, we call a male doctor a doctor, and a female doctor, a doctor. Likewise, we call a male lawyer a lawyer, and a female lawyer, a lawyer. These examples can be increased further. However, this is not the case with German, the male connoisseur of a profession is called a different word, the connoisseur is called a different word. For example, a male teacher in German "teacher"Is called. To the female teacher, "

Teacher

"Is called. To the male student "Students"Is called, female student"

pupil

"Is called. It is possible to increase these examples even more. What you should not forget is that there is a difference between men and women in German job names.
In German occupational names, the end of male occupational names is usually -in By bringing the jewelry, female profession names are created. For example, a male teacher

teacher

while female teacher "Teacher"The word"

teacher

"Of the word -in is the form of jewelry. Male student "

Students

While "female student"

pupil

"The word"StudentsIs the form of the word "of which has the jewelry. If you want to learn more about what jewelry is and how to conjugate verbs, there are topics on our site.
Article of occupational names used for men "

of the

"Is article. The article on the occupational names used for women is:the"Is article. For example: der Student - die Studentin
Yes dear friends, German professions We have given some general and important information about.
Let's see the German professions in a list. Of course, let's remind you that we cannot give all the professions in German here on one page. On this page, we will only write the most commonly used or most affiliated German professional names and their Turkish meanings. If you wish, you can learn the professions that are not included in the list here, from the German dictionaries.
Our lecture titled German professions is largely based on memorization, at the first stage, memorize the German of the most used professions in daily life and use these German professions in sentences by examining our sentence setup lessons, learn German professions together, according to gender. Because, as we said, many professions in German are named differently between male and female members. For example, male teacher and female teacher are different.
Below are the most commonly used German profession names for both men and women.
Of course, it is not possible to list all professions completely. We have listed the most used and encountered professions in daily life.
Send the German professions you want to add, and let's add them to the table below.
GERMAN PROFESSIONS

DIE BERUFE

der Soldat
die Soldatin
Asker
der Koch
die Köchin
Cook
der Rechtsanwalt
die Rechtsanwältin
Avukat
der Friseur
die Friseure
Barber, hairdresser
der Informatiker
die Informatikerin
Computer engineer
der Bauer
die Bäuerin
Farmer
der Arzt
die Ärztin
Doctor
der Apotheker
die Apothekerin
Pharmacist
der Hausmann
die Hausfrau
Housekeeper, housewife
der Kellner
die Kellnerin
Garson
der Journalist
die Journalist
Journalist
der Richter
die Richterin
Hakim
der Geschäftsmann
die Geschäftsfrau
Business man
der Feuerwehrmann
die Feuerwehrfrau
Fireman
der Metzger
die Metzgerin
Butcher
der Beamter
die Beamtin
Memur
der Friseur
die Friseurin
Hairdresser
der Architekt
die Architektin
architect
der Ingenieur
die ingenieurin
Engineer
der Musiker
die Musikerin
Musician
der Schauspieler
die Schauspielerin
Player
der Student
die Studentin
Student (university)
der Schüler
die Schülerin
Student (high school)
der Lehrer
die Lehrerin
Teacher
der Chef
die Chefin
Patron
der Pilot
die Pilotin
Pilot
der Polizist
die Polizistin
Polis
der Politiker
die politician
Politician
der Maler
die Malerin
Painter
der Saatsanwalt
die Saatsanwaltin
Savcı
der Fahrer
die Fahrerin
Chauffeur
der Dolmetscher
die Dolmetscherin
Interpreter
der Schneider
die Schneiderin
Terzi
der Kauffmann
die Kauffrau
Trader, tradesman
der Tierarzt
der Tierarztin
veterinary
der Schriftsteller
die Schriftstellerin
Author
Above, the most commonly used German profession names for both men and women are listed.
There is a male / female distinction in German for many professions, as can be seen below. For example, if the teacher is male, the word "Lehrer" is used,
The word "Lehrerin" is used for the female teacher. The word "Schüler" is used for male student and "Schülerin" for female student. As can be seen, by adding the -in at the end of the occupational names used for men, the occupation name to be used for women is found. This is usually the case.
By the way, as the almancax team, let's say; It is not possible to give all of the professions on this page, the sample words we give are selected on the basis of the most used and most common words in daily life. To learn the German of professions that are not available here, you need to check the dictionary. You also need to learn the plurals of these words from the dictionary.
In German, the article for all occupational names is "der". This applies to occupational names used for men.
The article for the occupational names used for women is "die". Generally, articles are not used in the sentence before the job names.
Conventions Related to German Crafts
1. German Profession Asking Clauses
The German job-asking sentences are as follows. If we wish to ask the other person about his profession Was bist du von Beruf We can ask your profession by saying or if we wish Was ist dein Beruf We can ask someone else about his profession in German. These sentences "what is your job","what's your job","What do you doMeans like ".
2. German Profession Clauses
Check out the sample sentences below. Now we will give examples of German vocational phrases. Let's first give example sentences with a few visuals. Then, let's duplicate our example sentences in a list. Please examine carefully. We will use the Subject + Auxiliary Verb + Noun pattern, which we have mentioned below, both here and in our future topics. We can give 2 different examples as a German profession statement. (Note: there is much more variety and more sample sentences at the bottom of the page)
First example sentence
Ich bin Lehrer
I'm a teacher
Second example sentence
Ich bin Arzt von Beruf
My profession is a doctor (I am a doctor)

Sentences such as "I am Ahmet, I am a teacher" are always made with the same pattern. We have said that men's occupational names are der, and women's occupational names are dies. However, in sentences such as "I am a teacher, I am a doctor, I am a worker", an article is not usually put in front of the job names. Also, since we mean more than one person (plural) when we say "we", "you" and "them" in sentences such as "we are teachers, you are students, they are doctors", in these sentences the plural form of the professional name is used. Now let's move on to our examples with great visuals that we prepared for you as the almancax team.
---
---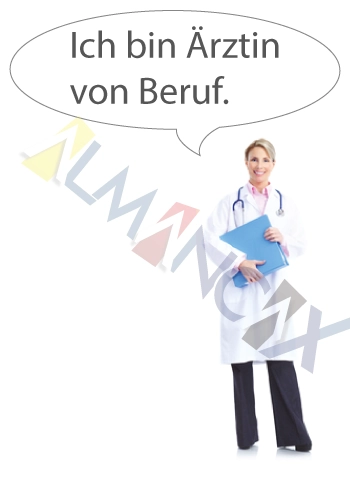 ---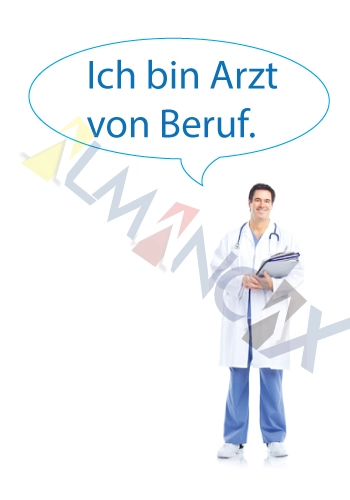 ---
Was bist du von Beruf?
Ich bin Polizist von Beruf.
Was bist du von Beruf?
Ich bin Anwalt von Beruf.
Ich bin Pilot: I am pilot (bay)
Ich bin Lehrerin: I am a teacher (lady)
Du bist Lehrer: You (your teacher)
Ich bin Metzgerin: I am the butcher (lady)
Ich bin Friseur: I am a barber (bay)
German Occupations Illustrated
Dear friends, we are now presenting some German professions with pictures.
The use of visuals in the lessons contributes to the students' better understanding of the subject and to the subject to be better remembered and memorized. For this reason, please check our German professions image below. The suffixes next to the words in the picture below show the plural form of the word.

More Sample Codes About Professions in German
Was sind Sie von Beruf?
What is your occupation?
Ich bin Student.
I am a student.
Was sind Sie von Beruf?
What is your occupation?
Ich bin Lehrer.
I'm a teacher. (male teacher)
Was sind Sie von Beruf?
What is your occupation?
Ich bin Lehrerin.
I'm a teacher. (female teacher)
Was sind Sie von Beruf?
What is your occupation?
Ich bin Kellnerin.
I am a waiter. (waitress)
Was sind Sie von Beruf?
What is your occupation?
Ich bin Koch.
I am a cook. (mr cook)
Now let's give examples using third parties.
Beytullah ist Schüler.
Beytullah is a student.
Kadriye ist Lehrerin.
Kadriye is a teacher.
Meryem ist Pilot.
Meryem is a pilot.
Mustafa ist Schneider.
Mustafa is a tailor.
Mein Vater ist Fahrer.
My father is a driver.
Meine Mutter ist fahrerin.
My mother is a driver.
Dear friends, German professions We came to the end of our subject named. German professions Regarding the German profession names, asking the other person about the profession and directed to us "what is your jobWe learned to answer the question. We also learned to say what third parties' professions are.
German professions You can write the places you do not understand about the subject in the question field below.
In addition, if you have any place in your mind, you can ask your questions from the question field, and you can also write all your opinions, suggestions and criticisms about German professions.
Our site and Our German lessons Do not forget to recommend it to your friends and share our lessons on facebook, whatsap, twitter.
We thank you for your interest in our website and our German lessons and we wish you success in your German lessons.
You can ask for anything you want to ask about German professions as a member of our German forums, you can get help from our trainers or other forum members.
We wish superior successes.